Our History
South Pacific Private is Australia's leading treatment centre for addiction, trauma and mental health conditions such as depression and anxiety.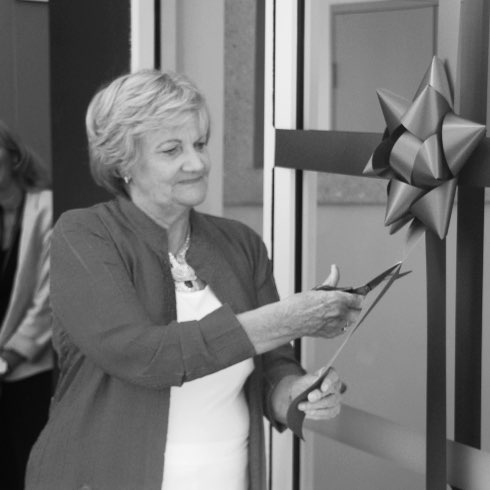 Lorraine opening South Pacific Private's new wing in 2016
Our Founders
When founders Bill and Lorraine Wood first opened its doors in 1993, South Pacific Private was Australia's first fully-equipped, integrated treatment centre capable of treating addiction, trauma and mental health issues. The hospital quickly established its reputation as Australia's leading treatment centre, a position we maintain today.
Lorraine had grown up in the home of alcoholics. When she married her second husband, Bill, he had been sober for over a year. But despite building a successful real estate business in Sydney together, Lorraine and Bill Wood found themselves in crisis.
Bill was experiencing "Dry Drunk Syndrome", a term that describes someone still displaying the traits and behaviours of an alcoholic, even when they are sober. Lorraine, the mother of five daughters and a successful businessperson in her own right, was weighed down by years of unhealthy, unaddressed emotional issues from an upbringing in a home of alcoholics. She was suffering from depression, work addiction and burnout.
After meeting repeated dead ends in Australia, their search for help took Bill and Lorraine to America, where they sought professional help at the Meadows Treatment Centre in Arizona.
Pioneers In Australia
The Meadows remains one of the leading authorities on addiction treatment in America. Its program, centred on the principles of the Alcoholics Anonymous 12-step program, was further enhanced by the pioneering work of Pia Mellody, an internationally-renowned expert on childhood trauma and the origins of emotional dysfunction. Mellody's groundbreaking work on codependency, boundaries and the effects of childhood trauma now underpin our program at South Pacific Private.
With the enthusiastic support of Pia Mellody and The Meadows, Bill and Lorraine brought the program to Australia and established South Pacific Private in its beautiful current-day setting overlooking Curl Curl Beach. In the years since, our program has been continuously developed and refined to meet the latest updates in clinical research, the enabling effects of technology and the strains and pressures of contemporary Australian life.
"Looking back, I can see how many of my life decisions were shaped by my childhood and being raised by alcoholics. There were times when I was convinced I didn't deserve happiness and as a result I battled depression for a large part of my life. But, luckily for me, my life changed when Bill and I reached out for help. Part of our healing was establishing South Pacific Private, so that we could help others to recover from addiction and mental illness."
Lorraine Wood.
See the interview in Lorraine Wood's words >
With an intensive, comprehensive, clinically-backed program, South Pacific Private has developed a reputation as the go-to treatment centre when you are deeply committed to real recovery.
We have treated over 14,000 clients and their families, and continue to break new ground in the integrated treatment of addiction, dependence, depression, anxiety, trauma and co-occurring conditions.
After the passing of both Bill and Lorraine Wood, their daughters, Frances Hansen and Fleur Wood, are committed to carrying on their parents' mission, and building upon their legacy.
Mum's Precious Legacy. Frances Hansen and Fleur Wood talk to the Australian Women's Weekly >
Learn more about the conditions we treat
This photograph is for demonstration purposes only.