South Pacific Private is Australia's leading treatment centre specialising in the integrated psychiatric, medical and therapeutic treatment of trauma and addiction and co-occurring mood and anxiety disorders.

South Pacific Private is a fully accredited psychiatric hospital in Sydney's Northern Beaches. We offer a trans-diagnostic model of abstinence-based recovery that is both comprehensive and multi-tiered.
Based on the pioneering developmental trauma framework developed by Pia Mellody and the Meadows, our treatment is delivered by an experienced, multi-disciplinary team of psychiatrists, general practitioners, registered nurses, psychologists, therapists and case workers. Treatment plans are designed in consideration of both the presenting symptoms and the underlying causes of addictions, as well as the comorbid issues of trauma, mood and anxiety disorders.
Our approach is designed to address the individual needs of clients who may require varying levels of support and unique specialist care along their recovery journey. South Pacific's programs are continually refined to reflect research developments, decades of institutional experience and the diversity of lived-experiences in contemporary Australia.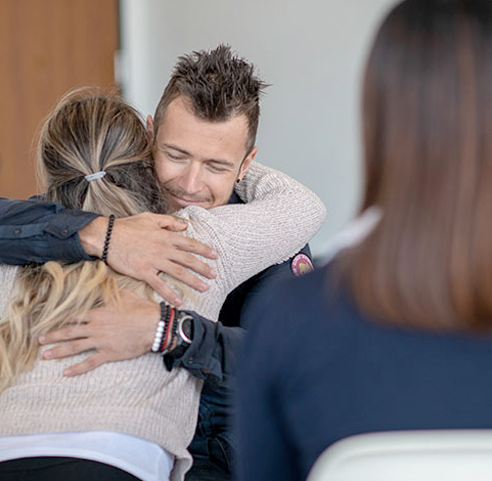 Privately insured clients – covered by a private health fund
Self-funded clients – clients will be provided with an estimation of treatment cost prior to admission
Workers compensation clients – approval needs to be obtained from the insurance company prior to admission
Overseas clients – We accept clients from overseas as long as their insurance company provides the necessary approval prior to admission or if those clients have the capability to self-fund their treatment
Department of Veteran's Affairs (DVA) clients
Please note that for any admission into South Pacific Private referral from a psychiatrist or GP is required.
If any of the following apply to your patient, please contact our Intake Team on 1800 063 332 to discuss:
Current medical condition that requires hospitalisation
BMI at or below 18
Eating disorder or actively restricting, binging or purging
Diagnosis of schizophrenia or schizoaffective disorder
Indication of hallucinations, either whilst sober or under the influence
Current drug-induced psychosis
Any current forensic issues or ongoing court proceedings
Requirement to be bailed to a facility
The high prevalence of coexisting mental illness and substance use disorders is well established in both clinical practice and throughout the literature (see Adverse Childhood Experiences studies for further support). South Pacific Private specialises in the dual diagnosis treatment of addiction and we are to committed to addressing the challenges of coexisting mental illness and substance use disorders concurrently.
The findings from the most recent Australian National Survey of Mental Health and Wellbeing demonstrate that the prevalence of comorbidity is even higher among individuals entering alcohol and other drug treatment (AOD) programs: Between 50–76% of Australian clients of AOD treatment services meet diagnostic criteria for at least one comorbid mental disorder.
For more on the impact of childhood experiences, watch Nadine Burke Harris' TED Talk here.
According to recent research by the Matilda Centre for Research in Mental Health and Substance use (2019), approximately 17% of Australians will experience an anxiety disorder in any 12-month period.
While feeling anxious at times is a normal part of the human condition, excessive worrying, panic, fear of losing control, fear of embarrassment or fear of socialising can become debilitating. These experiences can lead a person to withdraw from work and social engagements, as well as self-medicate with substance and behavioural addictions.
Treatment
South Pacific Private is a national leader in the treatment of addictions and co-occurring mental health issues. With special expertise in the treatment of trauma and dual diagnosis – and a unique focus on addressing addiction and mental illness within the context of family and relational systems – we strive to equip clients with the tools, strategies and awareness they need to pursue sustainable, long-term recovery.
Our multi-disciplinary team works to stabilise presenting symptoms and reduce problematic behaviours using evidence-based, best practice medical (pharmacological) and therapeutic interventions within our intensive inpatient pathway. We offer complete, onsite medically supported detoxification, led by an experienced team of psychiatrists, GPs and nursing staff.* Our programs include daily intensive group psychotherapy, educational lectures and one-on-one sessions with appropriate therapists and specialists. Clients attend regular internal and community based 12-step meetings.
Wherever your clients might be on their journey, our range of inpatient and outpatient programs offers treatment pathways which can be specifically tailored to their needs.
*In some cases, due to the nature of the withdrawal and co-existing medical conditions, we may require clients to complete withdrawal within an emergency hospital setting.
All photos shown here are for demonstration purposes only.